Framed Monogram Embroidery Design
Software Lesson
In this lesson,we will use tools featured in the Embroidery module to build a framed monogram.
We will begin by assembling three frames, then insert a SuperDesign and encore it into another frame, and then add a monogram in the center. This design utilizes tools found on the Frame, SuperDesign, Letter, and encore tabs.
The Framed Monogram Lesson requires one of these versions:
- mySewnet™ Embroidery -SILVER or PLATINUM (Windows or Mac)
- PREMIER+™ 2 EMBROIDERY, EXTRA or ULTRA (Windows or Mac)
- PREMIER+™ EMBROIDERY, EXTRA or ULTRA (Windows)
- TruE™ 3 ELEMENTS or ELITE (Mac)

With 30-day Free Trial of mySewnet Embroidery Software you will get to try out the most user-friendly and feature rich digitizing software on the market. It works with all embroidery machine brands and is available for both Windows and Mac.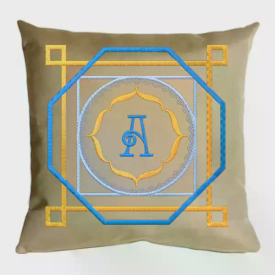 DOWNLOAD LESSON
Featured Video: Framed Monogram
This month's video is a detailed discussion and walkthrough of the Framed Monogram Lesson.

PC SOFTWARE VIDEO

MAC SOFTWARE VIDEO

Try our embroidery digitizing software free for 30 days!