Embroidered Hangers
There are several embroidery designs in mySewnet Library that are made to be towel hangers. They are embroidered on water soluble stabilizer. Fabric is placed on the stabilizer and trimmed away as in an appliqué design. The fabric is totally covered by stitching, but stabilizes the hanger.
When embroidering the towel hangers, hoop heavy weight water soluble stabilizer in the hoop.
The hangers are constructed using two appliqués. The first appliqués is the fabric for the hanger, it is covered completely by stitches (1), and the second is when inserting the towel (two position stitches connected by a jump stitch indicates where to put the towel) (2-4).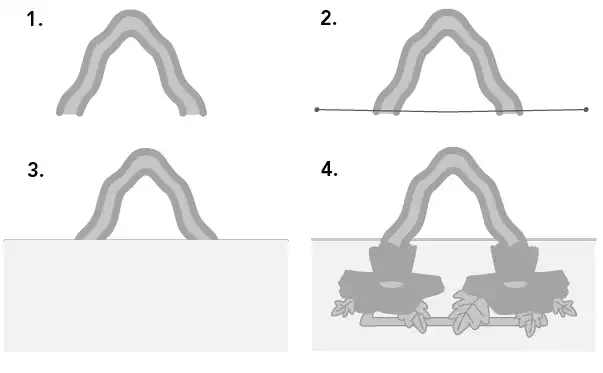 When the embroidery is finished, soak the finished embroidery in warm water to dissolve the water soluble stabilizer (follow specific instructions on the package for the stabilizer used). Hand wash the finished towel and lay flat to dry.
APPLIQUÈ

These type of embroideries are also fun to use as a closure on a bag or a garment. Have fun with it!
If you search for "Hanger" you will see that there are more than 30 designs available.