Digitize a Winter Words Embroidery Design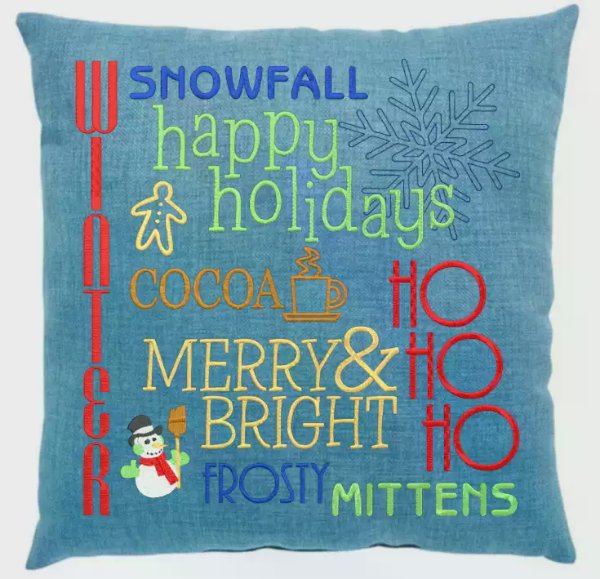 Software Lesson
In this lesson, we will use the Letter tab, SuperDesign tab, and the ExpressDesign Wizard/Assistant in the Embroidery module to build a design for the turnable 360x350 hoop. The completed design can be used for a pillow.
The ZIP file includes the step-by-step PDF lesson files, and the PNG image. For members who do not have one of the required software versions, we have included the VP3 stitch file.
Software Version Requirements
mySewnet™ Embroidery GOLD, PLATINUM (Windows ou Mac), PREMIER+™ 2 EXTRA ou ULTRA (Windows ou Mac), PREMIER+™ EXTRA ou ULTRA (Windows), TruE™ 3 ELEMENTS ou ELITE (Mac)
With 30-day Free Trial of mySewnet Embroidery Software you will get to try out the most user-friendly and feature rich digitizing software on the market. It works with all embroidery machine brands and is available for both Windows and Mac.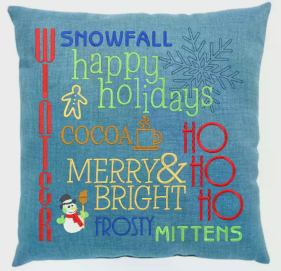 Featured Video: Winter Words
This month's video builds a Winter Words collage using the Letter tab,
SuperDesign tab, and ExpressDesign Wizard/Assistant. Also
included is a discussion of some design tips to use when
creating word collages like this design. We finish with
a discussion of the exporting process.

Creating a design from clipart using the ExpressDesign Wizard/Assistant.
Techniques for designing using lettering.
Exporting larger designs for the turnable hoop.

PC SOFTWARE VIDEO

MAC SOFTWARE VIDEO

Try our embroidery digitizing software free for 30 days!