Make Spiral Snowman Embroidery Design

Software Lesson
In this lesson we will use the Spiral Fill to create this charming raw-edge appliqué snowman design. We'll then add additional details by editing parts from various SuperDesigns.
The Spiral Snowman lesson requires: mySewnetTM PLATINUM
With 30-day Free Trial of mySewnet Embroidery Software you will get to try out the most user-friendly and feature rich digitizing software on the market. It works with all embroidery machine brands and is available for both Windows and Mac.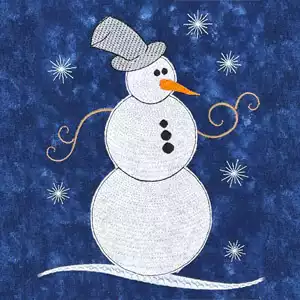 Featured Video: Spiral Snowman
This month's video is a detailed discussion and walkthrough of the Spiral Snowman lesson: