Jelly Roll Quilt with Graded Color Look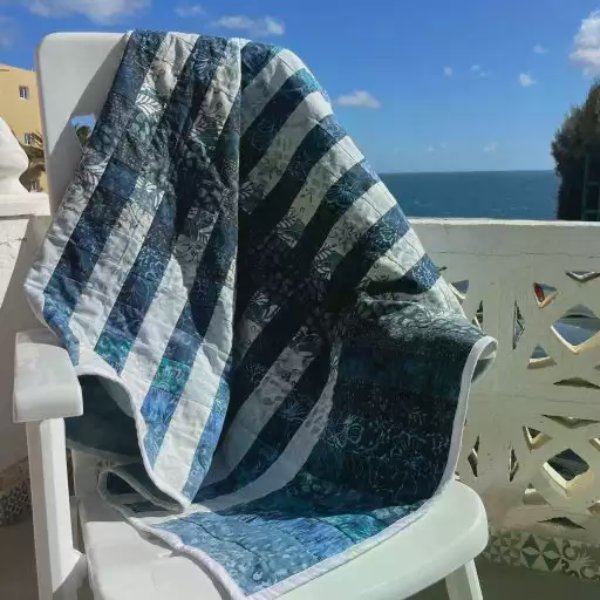 This jelly roll quilt looks complicated, but is actually easy to make. The size is narrower and longer than usual, but practical if you want something warm to wrap around your shoulders! Finished size is approx 40"x 70"(105x180cm)
What you need:
A total of 40 strips 2½" (6,5cm) 2 of each color (or 1 jelly roll with 40 strips 2 of each color) In this project I used two identical mini jelly rolls with 20 fabrics.
Coordinating thread
Fleece for the back of the quilt 2yds with a fabric width of at least 44" (110 cm)
If not using fleece you need batting and backing fabric instead (same measurements as for the fleece)
Fabric for binding 6 strips 2½" (5cm) fabric width 44" (112cm) total length of binding needed 6yds (6m)
How to do:

1. Start by putting the fabric strips into an pleasing order. I arranged them with the darkest color in the middle and lighter color at the ends with the white at one end and the lighter blue at the other. This makes the quilt darker in the center and more variegated at the ends.( see picture below)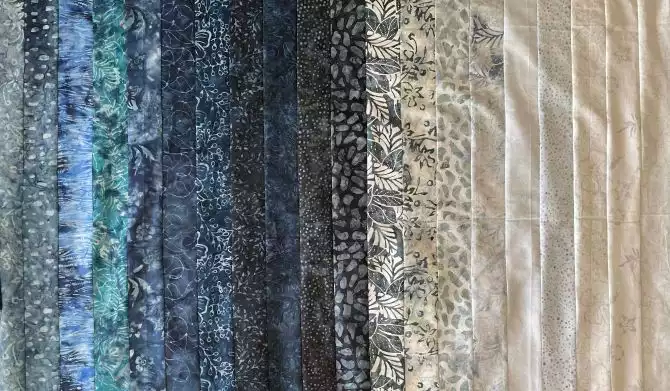 2. Sew the strips together in the order you decided. Make two identical pieced sets with 20 strips in each set, see picture of the finished piece above.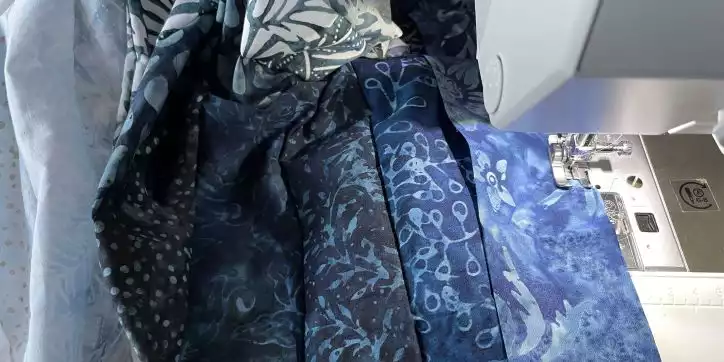 3. Fold the strip sets right sides together and cut 13 strips from each, 2½" (6,5cm) wide.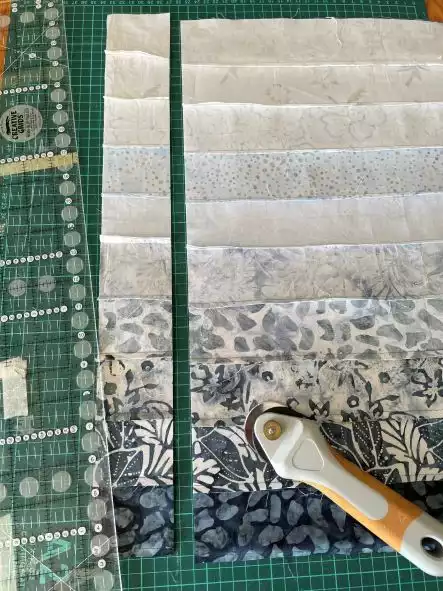 4. Sew them together in alternating rows with ¼" (0,6cm) seam allowance (turn every other row 180 degrees. When finished you should have 25 rows stitched together (you will get one row of strips left, that will not be used in this project).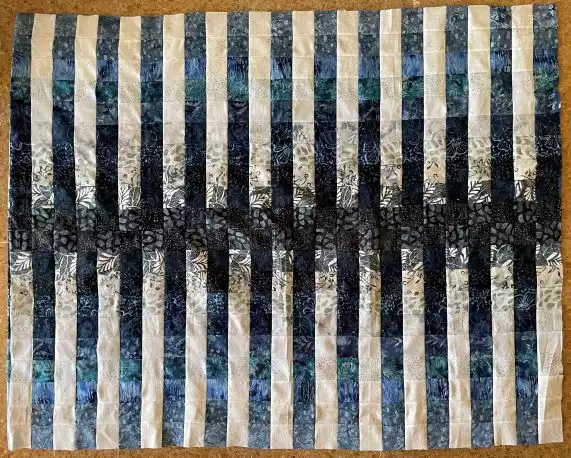 5. Cut the edges even on the remaining strip pieces, they should be about 11" (28cm) wide.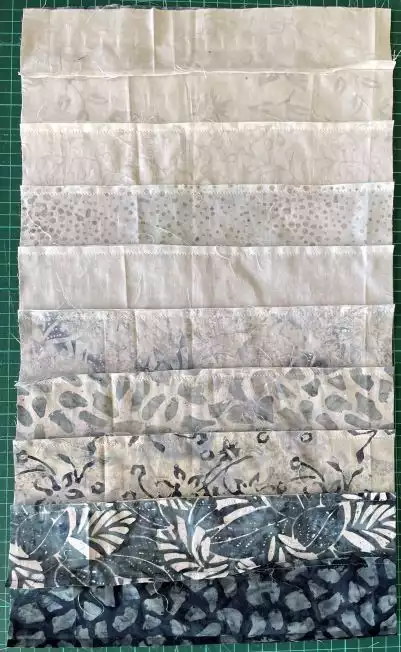 6. Sew them on the ends of the 25 rows one in the beginning and the other one in the end. This adds a nice finish at the ends of the quilt and emphasizes the graded look.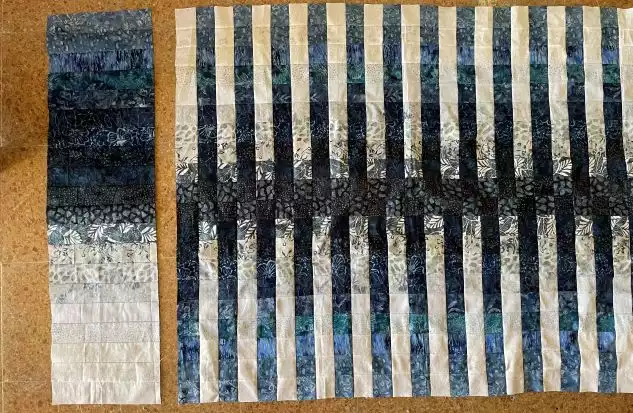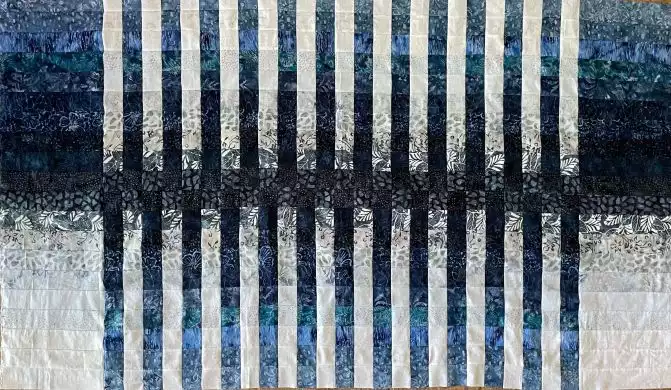 7. Press the quilt top.

8. Put the fleece on the table, right side down and the quilt on top of it right side up. Pin or baste in place.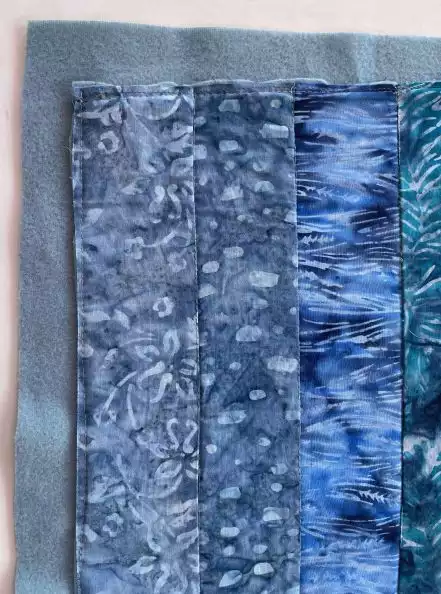 9. Quilt between the strip rows, "in the ditch"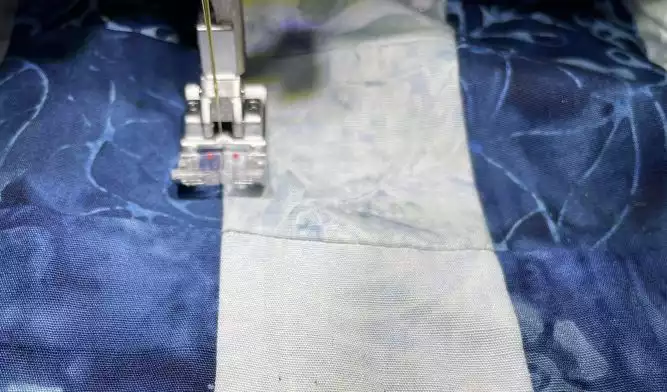 9. Bind the edges of the quilt. You can find the instructions for binding in the Education section: Binding with mitered corners- single layer. Finished size of binding ½" (1cm).
Your quilt is now finished!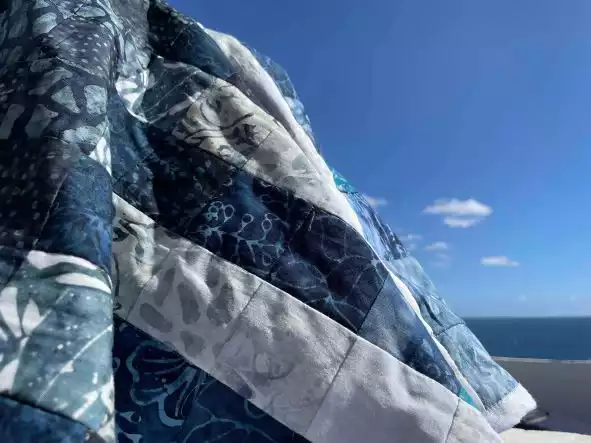 TIP: this technique looks great in many different types of Jelly rolls, here is another example: