Have a Creative Holiday from mySewnet™ Embroidery Software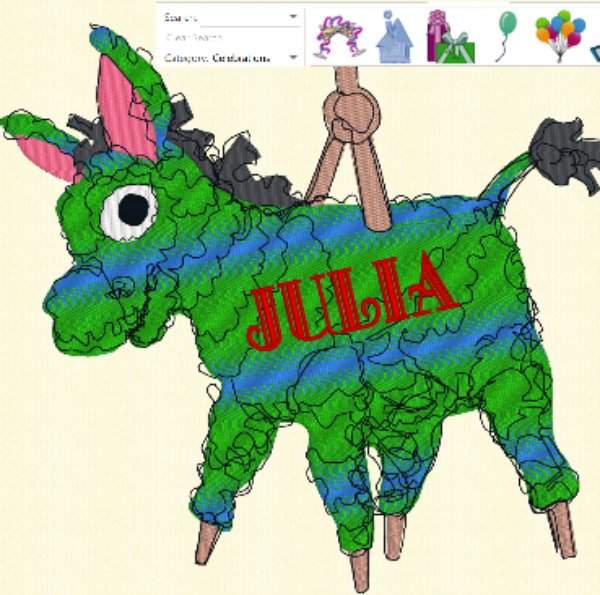 Welcome to the mySewnet™ Embroidery Software Newsletter for November, 2023.
The last months of the calendar year often bring a time of celebration, visits with family and friends, and gift exchanges as we gather for a diversity of holidays. Whatever your holiday might be, let's explore ideas for gifts and distinctive projects that will brighten your special events!
mySewnet™ Software holds many delightful designing options you can transform into gifts or decorations for special holidays and occasions. Here are some ideas to get your creativity sizzling!
With 30-day Free Trial of mySewnet Embroidery Software you will get to try out the most user-friendly and feature rich digitizing software on the market. It works with all embroidery machine brands and is available for both Windows and Mac.
Super Designs
Super Designs come in so many Categories, it's difficult to choose which to use first! Here are a few to get you started!
(Shown above), light a holiday candle with Christmas 1 (Appliqué), Design 3 – Candlestick. Christmas 1 – Appliqué holds several traditional Christmas holiday designs!
(Shown above), get into the holiday spirit with a little pumpkin from Food 1 (Appliqué), Design 7 – Pumpkin, great on place mats, a table runner, or as unique coasters!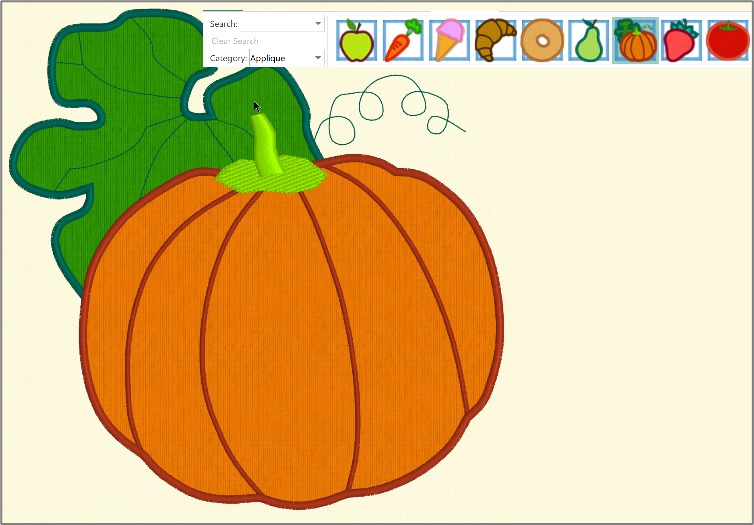 (Shown above), get into the holiday spirit with a little pumpkin from Food 1 (Appliqué), Design 7 – Pumpkin, great on place mats, a table runner, or as unique coasters!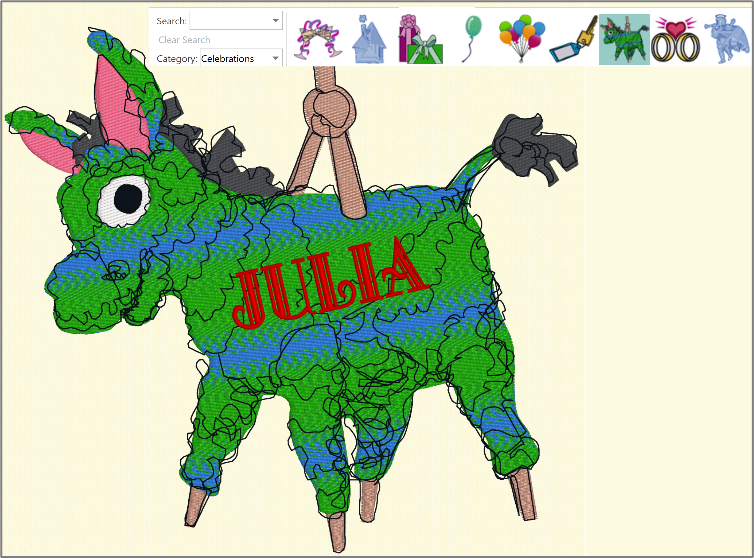 (Shown above), stitch up an adorable pinata on felt for place markers at your holiday dinner! Use the Galeria UC 16 – 60mm font, as shown, to make a keepsake for each attendee.
In mySewnet™ Embroidery software, SuperDesign tab.

(in Mac Control Panel),
The SuperDesign menus offer SEW many choices. Take a peek and see what other ideas you can conjure up!
Monogram
Monograms are popular for personalization, as well. From pocket squares to shirt cuffs to napkins, you can individualize (and identify) your gifts and accessories with a monogram for any holiday season!
To shape your letters, use the ExpressMonogram program from the Create tab ( in Mac Control Panel).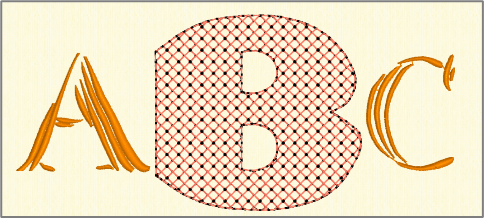 Shown above, Small-Full-Small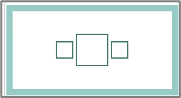 Full Letter Font Wing Bold 24-70mm;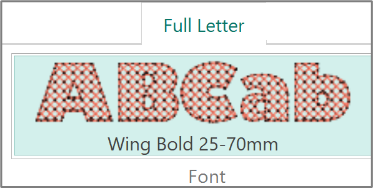 Small Letter Font in Alternative Style, Mirage UC 65-100mm. Border deselected.


Click Finish to apply!

Need it larger or smaller after you Finish? No problem, the lettering select box shows green handles (shown below), meaning you can adjust the design larger or smaller with no loss of quality!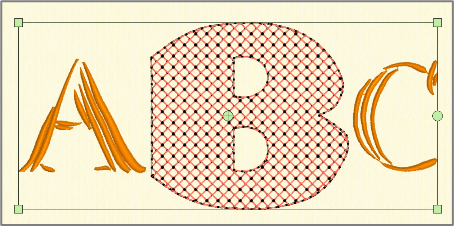 Decide you want a different Font? Even better, you can right click and open Properties (shown below) to change it up again in the ExpressMonogram window!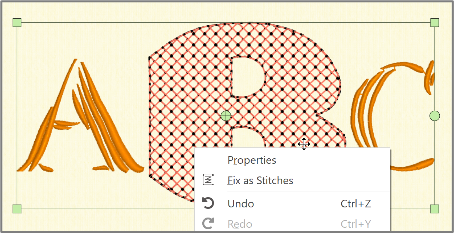 Shown above, Classical 2, Frame 8, Group, and monogram letters selected.
After you Apply, select Reveal Groups in the FilmStrip

Select the Frame in the FilmStrip, and hold the CTRL key to adjust height and width independently!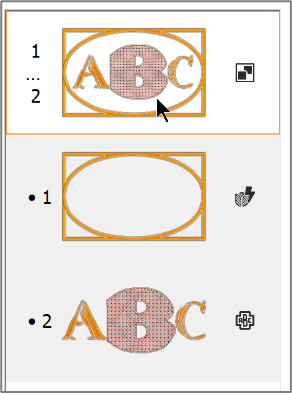 Ribbon Embellishments
Do you have the Ribbon Embroidery attachment, or the Embellishment attachment for your compatible embroidery machine? Add some 3 dimensional trim to any embroidery design, and stitch it automatically in the hoop!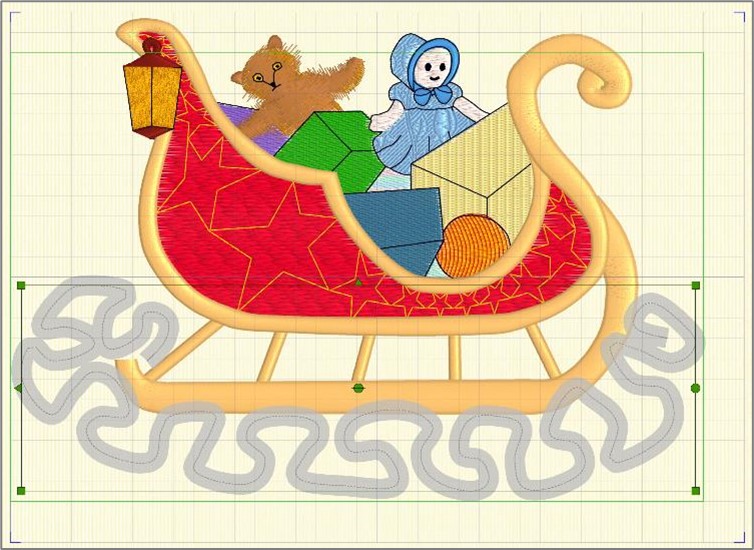 Shown above, Sleigh.vp4 from Samples, Digitizing, Stitch. Freehand swirls of ribbon 'snow' designed in the Embellish tab
( in Mac Control Panel).

TIP: Make sure to keep the ribbon within the green area for the Ribbon or Embellishment Accessory! When Exporting or Sending the designs, do not Combine, so the embroidery stitches remain a separate unit.
Project-In-The-Hoop
Want a quick gift for a host or hostess? Need a stocking stuffer or something fun to decorate your holiday tree? Do a little exploring in Project-In-The-Hoop

(Create tab, in Mac Control Panel),
You'll find a number of projects that you can stitch up quickly.
How about this sweet and happy GingerBread Man (shown below)? And don't forget, you can view or print PDF instructions for each project.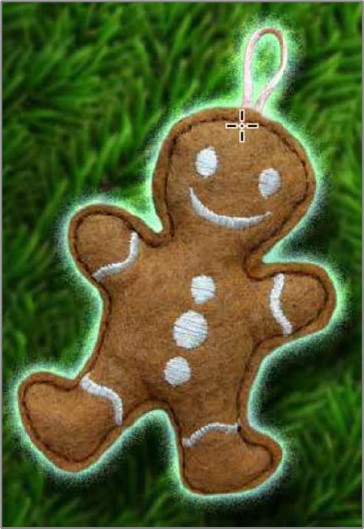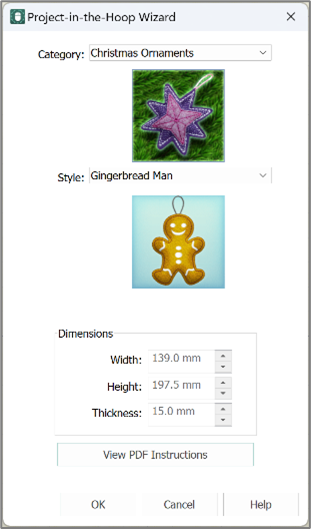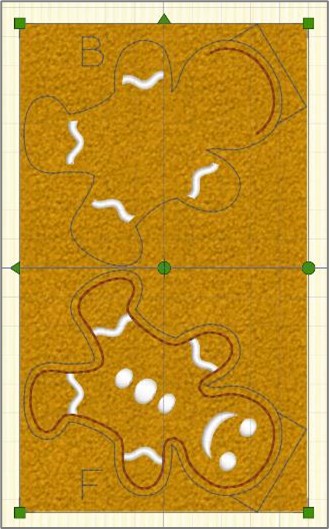 Most Project-In-The-Hoop designs have green handles, meaning you can adjust them larger or smaller to suit your needs, as well!
And a Little Bit More!
These are just a few holiday ideas you can transform into special memories for your own celebrations. Once you have a few basics under your belt, browse through other components of mySewnet™ Embroidery Software for more inspiration!
There is no limit to your creativity when you have mySewnet™ Embroidery Software Silver, Gold or Platinum at your fingertips!
Have a fabulous day from the software team at mySewnet™ Embroidery Software !