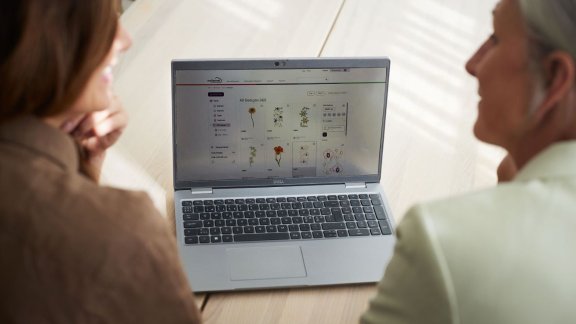 mySewnet Vault
Speichern, organisieren und durchsuchen Sie Ihre Stickmusterdateien – mühelos!
Mit mySewnet Vault finden Sie schnell und effizient die perfekten Stickdesigns für Ihre Projekte. Importieren Sie mühelos Ihre Stickdesigns, wenden Sie verschiedene Etiketten an und organisieren Sie sie in benutzerdefinierten Alben.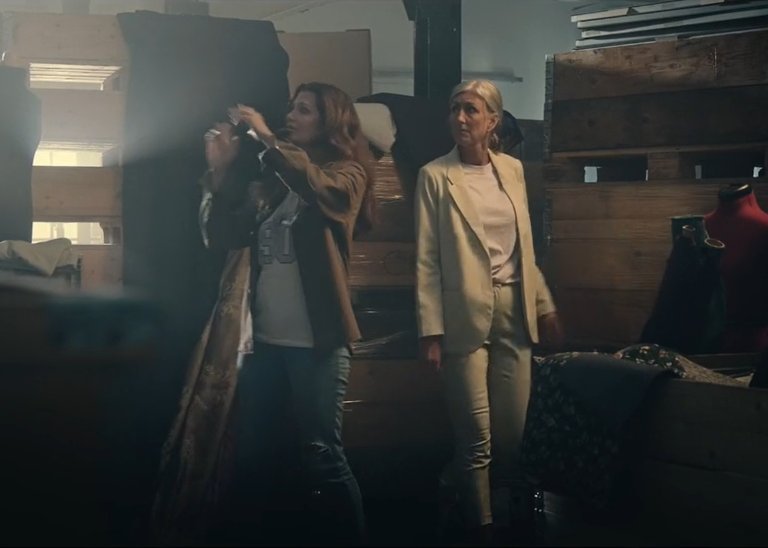 mySewnet Vault
Top-Features
Kategorisieren Sie dieselbe Datei mit mehreren relevanten Labels und in mehreren Alben

Suchen, filtern und sortieren Sie Dateien und Alben

Sehen Sie sich die Miniaturansichten der Bilder als Vorschau an

Direkt an eine mySewnet-fähige Maschine oder Software senden

Funktioniert mit jeder Maschinenmarke

Sicherer Online-Speicher

Die Designs der mySewnet-Bibliothek werden automatisch beschriftet und im Vault gespeichert
mySewnet Vault ist mit einem mySewnet-Konto kostenlos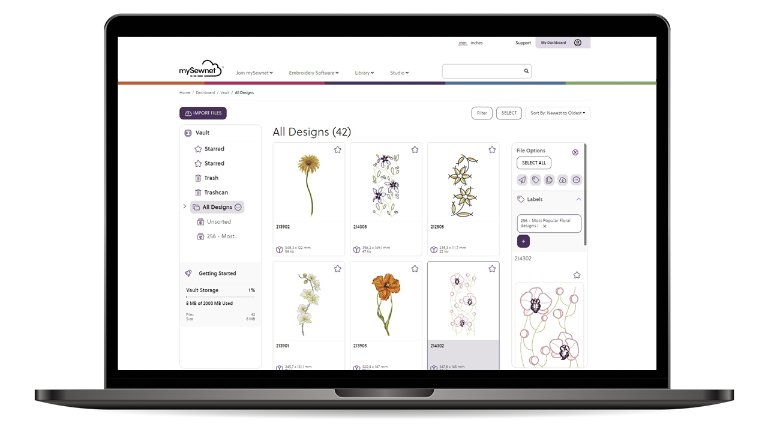 How to set it up
Use these simple steps for secure organization and easy searchability of all your embroidery designs.
Sign in to your mySewnet Account. If you don't already have a mySewnet Account, register for free here.

Click Import Files

Choose Folders or Files (Folders will keep their names) and Import

Add Labels to the files; e.g flower, animal, ribbon etc. Start by adding labels that apply to all files and then deselect all and choose individual files.

Add Albums; Add all designs to an existing Album.

Finish Import. Select files again to add more labels and for more information

Easily search your Vault for the file you are looking for.
Designs from mySewnet Library are automatically labeled and searchable in your Vault.

Storage

Store up to 40,000 embroidery designs

Categorize

Categorize designs easily so they show up in multiple folders if that makes sense.

i.e. both Butterflies and Flowers

Preview

See small image preview instead of long lists of file names for easy searchability.

Search, filter and sort

Easily find exactly what you are looking for with search, filter and sort functionality.

Naming

Add your own descriptive design name to the embroidery by renaming. The file name is still kept within the data.

Send

One click to directly send designs to mySewnet enabled machine or software.
Comparison
| FEATURE | Cloud | Vault |
| --- | --- | --- |
| Store Files | | |
| Storage: Gb | 0.1 Gb | 2.0 Gb |
| Storage: number of designs | 2,000 designs | 40,000 designs |
| Organize files in folders/albums | | |
| Name and rename files | | |
| Download files | | |
| Download multiple files at once | | |
| Save to Vault in Library | | |
| Send directly to mySewnet-enabled machine or software | | |
| Categorize the same file in multiple relevant folders/albums | | |
| Search, Filter and Sort files and folders/albums | | |
| See image thumbnails as a preview | | |
| Flag corrupt embroidery files | | |
| Mark designs as Favorite | | |
| Reliable for long term storing of files | | |