Button Heart Pillow : How to Sew on Buttons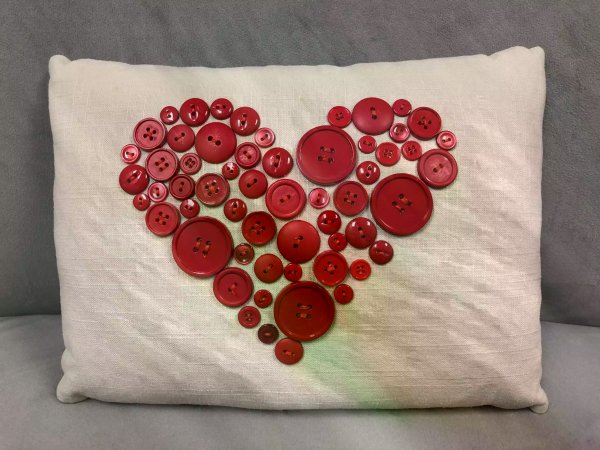 Use your sewing machine, along with a button sewing foot, to easily stitch buttons onto your fabrics. This technique is commonly used for attaching buttons to garments and home decor, but it's a great time saver for embellishments like this pillow top, too. Mix 2-hole and 4-hole buttons in a variety of sizes. The video link provided in these instructions will show you how!
What you need:
Pillow form
Medium weight woven fabric for covering pillow form (cut 1 for pillow front and 1 for pillow back - use width and length of pillow dimensions, then add ½" seam allowance)
Assorted 2-hole and 4-hole buttons
All-purpose sewing thread (1 to match fabric, 1 to match buttons)
Button sewing foot
Hand sewing needle
Sheet of paper (to make heart pattern)
Prepare the pillow top fabric

1.Draw a heart shape on paper, then cut out your heart shape which becomes your pattern.
2. Pin the heart pattern onto the pillow top. Use a hand sewing needle to baste around the heart shape. This will provide a boundary to use as a guideline for arranging the buttons.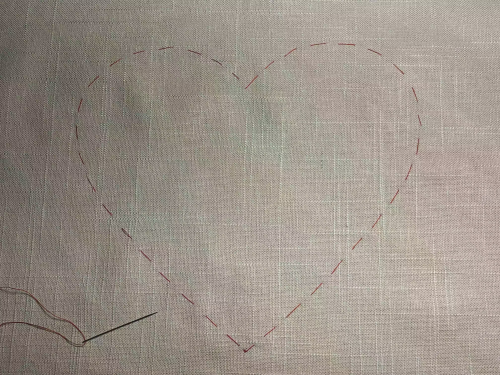 Stitching buttons on by machine
3. Before you begin attaching the buttons onto the pillow top fabric, watch this video for instructions on how to easily sew buttons using your sewing machine.
4. Attach the Button Sewing Foot to the machine.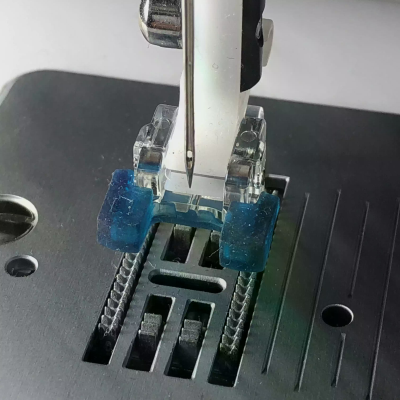 5. Thread the top of the machine and bobbin with all-purpose thread.
6. Set your first button in place as desired on the pillow top fabric, within the basted outline.
7. Following the guidelines for button sewing (provided in video link, step 3), set your machine for zig zag stitching and disengage the feed teeth. Stitch the button onto the fabric and tie off to secure. Repeat for all buttons until the heart shape is filled.

Finish the pillow
8. Remove the hand basting of the heart outline.
9. Place the pillow front and pillow back fabrics, right sides together. Change the thread to a color that matches the pillow fabric. Set the machine for straight stitch. Sew around the pillow using a ½" seam allowance, leaving an opening through which you can insert the pillow form.
10. Clip the corners to help reduce bulk, then turn the pillow right side out. Insert the pillow form. Hand sew the opening to finish.