Why Buy a Serger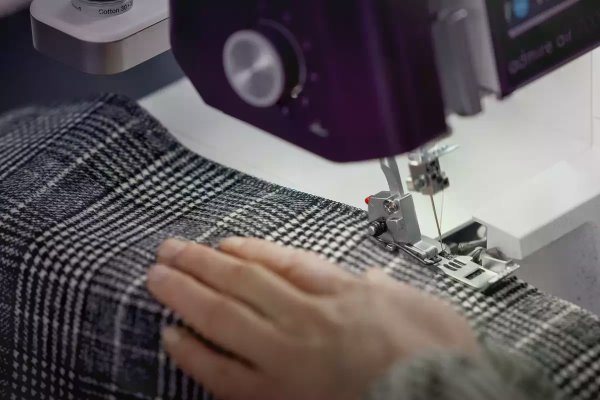 April is National Serger Month and to celebrate we're going to add several serger tips and projects. Let's start by talking about why a serger is a great companion in the sewing room!!
If you want to sew twice as fast as a sewing machine and create professional seams and
finishes like ready-made garments.....
You Need a Serger!
The serger is a machine designed for the home sewer that will trim, stitch and overcast your seam at the same time in half the time? The serger machines are very versatile and can be used on woven, knit, and many other types of fabrics.
Is That All It Does?
A serger trims and finishes a seam that your sewing machine cannot manage in half the time, but that's not all...
Seam Finish - Prevent fraying by finishing edges of hems and seams pressed open.
4-Thread Overcasting - Sew a wide seam with two needles, upper looper, and lower looper while trimming away excess seam allowance at the same time.
3-Thread Overlock - Provides many decorative and utility techniques that can be accomplished with ease.
2-Thread Overlock - Gives a finer rolled edge on lightweight fabrics and less bulk when overcasting and edge finishing.
Differential Feed - Feeds knit fabrics without stretching or rippling and provides a smooth seam on lightweight fabrics that tend to pucker.
Gathering - Twice as fast and adjustable too! Gather light and medium weight fabrics easily and evenly for home decorating, ruffles, or gathering a skirt.
Rolled Edges - Create beautiful finishes for tablecloths, valances, napkins, scarves, and hems quickly without complicated adjustments.
Decorative edges - Crafts, jackets, and other garments can be embellished using a variety of different decorative techniques using threads, yarns, and ribbons in the loopers. Enjoy a very fashionable and unique wardrobe.
Blind hem - Fast and easy using the blind hem foot.
Apply lace - Quickly done with the flatlock stitch – without the bulk of a regular seam. The stitch
flattens out with a ladder stitch on one side and the flatlock stitch on the other leaving the lace hanging beautifully.
Quilt piecing - Done quickly and finished neatly on the reverse side for those projects not being layered and quilted.
Piping - Inserted quickly and professionally with the optional piping accessory foot.
Coverhem - Provides a far more elastic stitch than sewing on your sewing machine. Coverhems, which both finish and topstitch, provide an elastic stitch that is perfect for knits and very durable for sportswear.
Elastic Application - Optional elastic foot is great for lingerie, exercise wear, swimwear, or other garments where elastic is needed. This foot stretches the elastic for you while sewing the garment, resulting in even stitches and a smooth elastic edge that will withstand lots of action.
And More! Visit your local dealer to find the perfect serger for your needs.